Here are a few more pictures from Hookahville!!! I've been to two shows since then, so forgive me if I don't remember much as far as detail....
Cliff Starbuck (Cliffy as we know him) rocked my socks off with the horn section backing him up.....and then he did a little yodeling for us. To Ekoostik Hookah fans, it's always a big highlight to hear Cliffy yodel. Never really thought I'd get excited over a yodeler (is that really a word?) But Cliffy never ceases to amaze!!!!!
Of course, I got several pictures of Eric, the drummer. He's my buddy!!!! I can't wait for November when we go to their recording party in Atlanta...it includes dinner and an after party with the band. Ryan and I always try to talk to Eric when we see them...he's very down to earth considering how many of us little hippies worship him. There's never a dull moment with him and Ryan in the same room.....they're both hysterical!!!
This is a picture of the front of Eric's bass drum....also now my profile picture on myspace.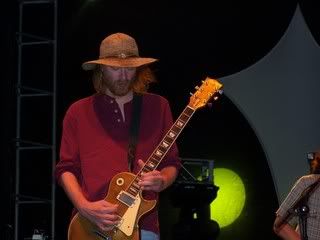 Then there's the astounding Steve Sweney....guitar guru. Ryan and I are convinced he's from another planet!!!!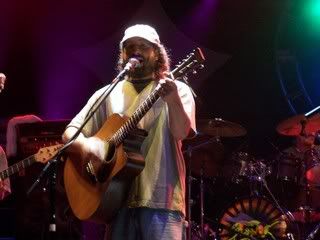 Also, we have Dave Kats, who always sports a hat with his son's name on it. (Dash) Wow, wouldn't you love to have a name like "Dash Kats?" He's destined to be famous just for his name if nothing else!!! Oh yeah, Dave is an awesome gutair player, and usually mans the keyboards and sings his little heart out!!!! He brings a lot of energy to the stage!!!!
Ryan and I bought this huge soccer ball on clearance from CVS before the trip....you all know how I fell about the clearance aisle....could never pass it by!!! But anyway, it was the best $3.00 investment ever!!!! We mainly used it as a huge volleyball...but you could kick it or throw it or hit it with your head....whatever...we didn't really have any rules....we don't like rules!!!!
There's my sweet baby angel with his beautiful "choc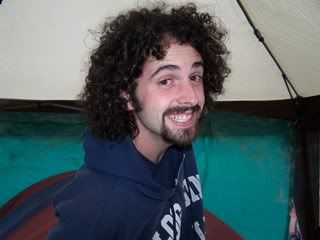 olate locks" as he calls them. If you can't tell, I think he had a few drinks in him by the time this photo was taken :-)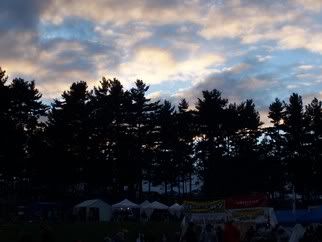 The weather was kind of chilly and rainy, but both nights, just before Ekoostik Hookah took the stage, the blue sky started to peek through all the gloom.....I had to get a picture of the only blue sky we saw while we were there....it was beautiful!!!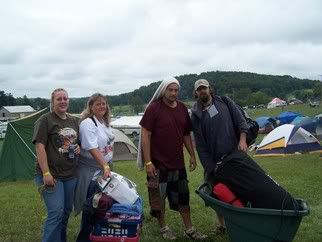 Sunday morning is always kind of a bummer...here are our friends Liz, Kelly, Dave and Matt from Indy packin' up for the weekend......so sad to say goodbye. You know, it seems strange, but we see some of our friends more often when we're out of state than we do when we're home.... even though they only live an hour away......
The countdown has now begun for the recording party in Atlanta Georgia in November. That will be our next big Hookah gathering. I can't wait!!