Holy cow....what a weekend!!!! I can't believe it's Friday again already. We were on the road to Atlanta this time last week. And oh my , did we have fun!!!!!
We got lucky enough to get involved in a pretty special occasion with the band we follow, Ekoostik Hookah. As some of you may remember, last year at about this time, I was freaking out because the lead singer had left the band. Fortunaltely for all us "Hookah heads," the original lead singer came back. His name is John Mullins, and he had been gone from the band since about 1994. What they did this weekend was re-record their very first album that included John, and they recorded a new CD and filmed for a DVD. It was all done at Tree Sound Studios in Atlanta, GA. I wasn't familiar with this place, butI was familiar with a lot of the artist that have recorded there. There were several gold records on the walls from artists that had recorded there such as Elton John, Usher, Outkast, Eric Clapton, and several others.
The whole atmosphere there was awesome. There was a lot of excitement in the air. And the studio was georgeous. We had free food and drinks all night both Friday and Saturday, and Ryan and I got involved in interviewing the band for the DVD. I have no idea if they will use any of the stuff that we asked, but it will be cool if they do!!!
We got to see lots of friends from Ohio and Indy that we only see at these shows. It's always great to catch up with the friends we don't see often enough. We also got to watch the Ohio State vs. Michigan game with the band on Saturday. They had reserved a theater room in the Hilton where we stayed so we could all watch the game together. Since most of these folks are from Ohio, it got pretty crazy in there because this was such a big game. Hookah even played the Ohio State fight song at the beginning of the show Saturday because they won...it was kinda funny.
Anyway, I won't bore you with too many pictures of the band....they would proably be the same to you guys as all the rest, but I'll post a few of us and our friends................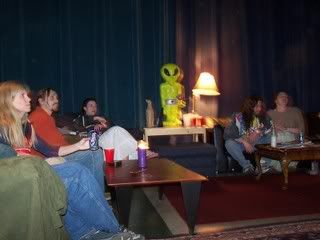 This is a picture of the room we all hung out in together before the shows both nights. This just shows a tiny corner of the room. We managed to squeeze all 150 people in there at one point in time.
This is another part of the "hang out room" It's also the couch where the guys sat while we interviewed them.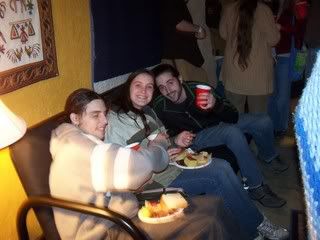 Here's our friend Keegan and his girlfriend, whose name I forget, and my sweet baby Ryan!!!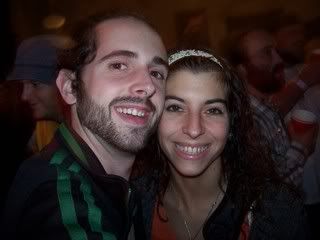 There's the cutest couple at the show!!!!!!
These are our friends Angie and Kim. Never a dull moment with these girls!!!!
This is Steph, Jenni and Keegan's girlfriend....still don't remember her name :-)
On Sunday, we left Atlanta and headed to Memphis TN where we went to Graceland. I've got lots of pictures from that part of the trip, but not enough time at the moment. That will have to be another blog....................