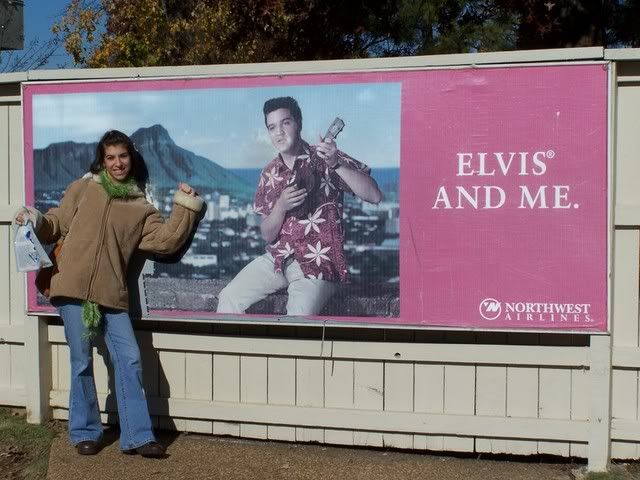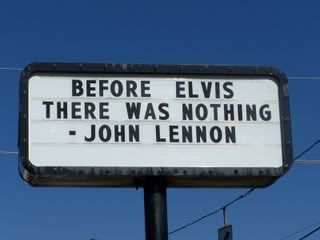 Did you guys know that Elvis was a twin??? Unfortunately, his brother died at birth. That's just one of the little Elvis trivia tidbits that we learned on our trip to Graceland.
It was just a spur of the moment decision to go to Memphis after our trip to Atlanta. In fact, we thought Graceland would maybe be kinda cheesy, but it's just one of those little things that was on my "top 100 things I wanna do before I die" list. So we figured, what the heck. We were already down south, and it was only a few hours out of our way, so off we went!!!
We headed to memphis on Sunday morning, and got there around 4:00 Sunday afternoon. We were starving when we got to our hotel, so the first thing on our agenda was FOOD!!! I picked up a brochure in our room that had a picture of BB king's Blues bar, and it gave the address. So, we decided to head down to Beale street where this place was, because it said "food and live music 24 hours a day." I thought that would be great because it was Sunday, and if you live around here, you know the world shuts down after about 5:00 PM on Sundays. Apparently, that's not how they do things in Memphis. That place was hoppin'!!!
They had Beale street blocked off like a block party, and you could carry your drinks out on the streets from bar to bar. They even had street bars where you could walk up to a window and order a drink. I guess they do that every day after 4:00. I had no idea Memphis was going to be so much fun.
There was live music pouring over the street from spaekers outside nearly every bar. There were a few really cool record stores that Ryan and I browsed through, and lots of different novelty stores. We never even made it into BB King's bar, because we were so enthralled by all the bright lights and everything. We wanted to check out as much as we could in the two days we had. The first place we stopped had a live jazz band that was pretty cool. We ate some good southern cookin' there and went over to a piano bar across the street. The piano bar was awesome. There were two guys at two baby grand pianos facing eachother. They were battling eachother with lots of good ol' songs. One guy would play for awhile, and then the other guy would play, or they would play together and just try to outplay the other one. They also took requests, and could play nearly everything the audience requested....except for our request. We aksed for "Caravan" by Van Morrison, but they didn't know it. So, they played "And it Stoned me " instead. I'm always happy to hear anything by Van Morrison.
On Monday, after Graceland, we went back to Beale street to get a bite to eat before we hit the road. We picked a cajun resaurant, and oh my gosh, was it good!!!! We ate red beans and rice, jambalaya, and some gator gumbo. Yep, I have officially eaten alligator....and it was delicious!!!! I was a little leary at first, but once the smell hit me, I couldn't resist. I just tried not to think about what I was eating until I was done. Then, I was proud of myself :-)
This is a picture Ryan took of us at Rum Boogie. That's the cajun restaurant. It was also set up for live music like all the other bars aroun there, but we were there during the day, so we didn't get to hear anything that day. They had autographed guitars of nearly every guitarist I could think of besides Jerry Garcia hanging all over the ceilings in this place. I could have been there all day just looking at guitars!!! it was like a museum!!!
Sunday evening before we went to bed, we watched an Elvis movie on one of the channels that played them 24 hours a day. I have never been a huge fan of his movies, but we watched one just in spirit of why we were there...and it wasn't all that bad!!! Our hotel was all decked out in Elvis gear.....it was fun. There was a pool shaped like a guitar. Too bad it was too cold to use it!!!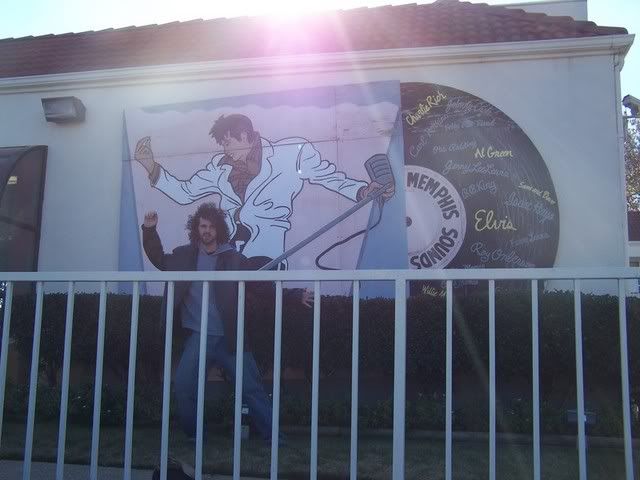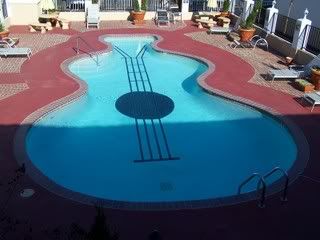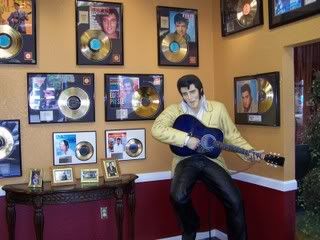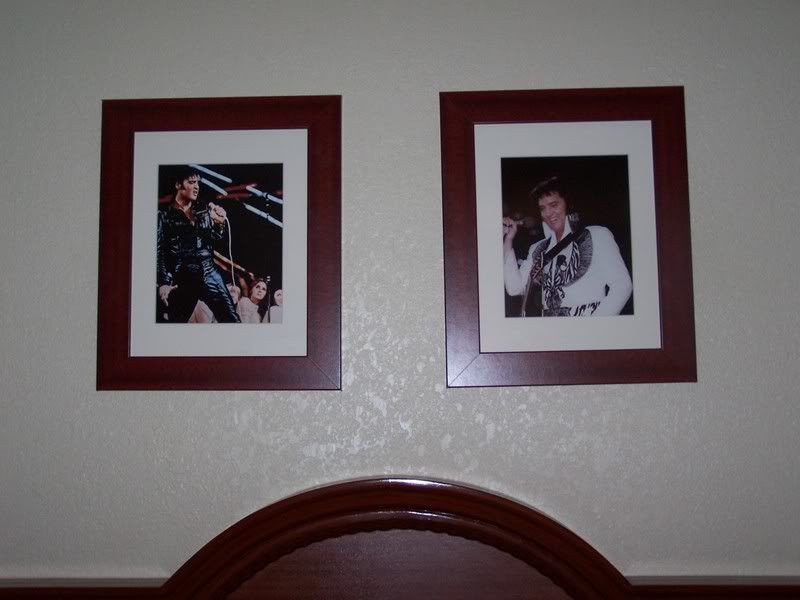 Graceland was amazing. The house didn't look that big from the outside, but there are lower levels that are underground that you can't see from outside. It was actually huge inside, and we didn't even get to see the upper level. That's where Elvis' bedroom is, and they don't display that to the public out of respect. I thought that was fine.
When you first walk in, there is a room that has beautiful stained glass windows and just on the other side of the windows is a georgeous grand piano. I couldn't get a picture of the piano because people never got their bigs heads out of my way. The pictures I took are just mediocre because you are not able to use your flash, due to the light fading material and other things over time.
The dining room was beautiful. You only see a small prtion of it in the picture I got. My favorite room was the "Jungle Room." It was covered in green shag carpet....even on the ceilings!!! The furniture was all custom made and was covered in different types of animal fur. There was a chair that Lisa Marie used to play in when she was little that was round, probably close to the size of a trampoline, and also covered in fur. I couldn't get a good picture of it because it was pretty dark in there.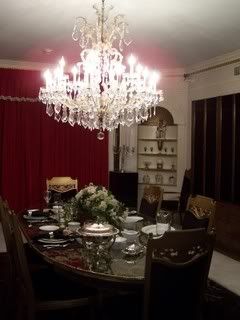 This picture of Pricilla and Lisa Marie was hanging in the dining room. I thought it was beautiful!!!
There were several bars throughout the house. Some of which were very ritsy, and others, just looked like something someone would have in their home around here.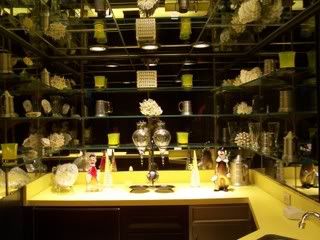 He also had a game room with a couple pool table that was covered from floor to ceiling in gathered material that matched all the furniture. It was pretty busy!!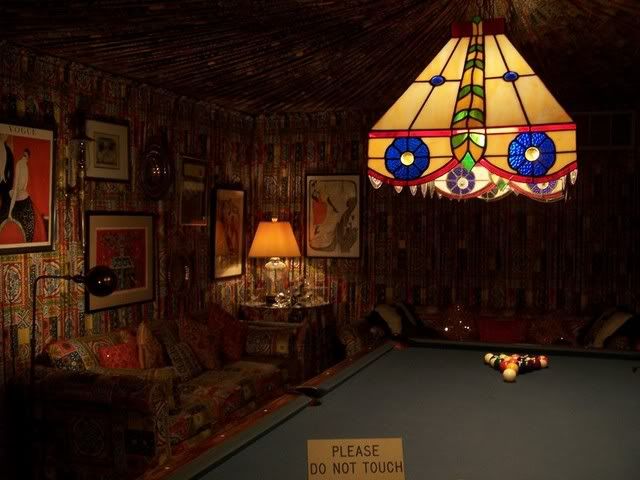 One of the hallways in the lowest level was just covered ffrom one end to the other with gold and silver records. Elvis also converted his raquet ball court into a huge display of gold records. They had a few of his flashy outfits in glass cases in that room as well. The bling on that stuff could put your eyes out!!!!!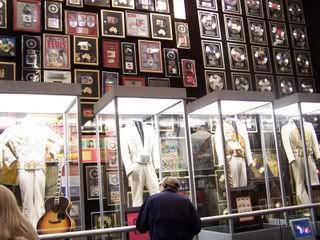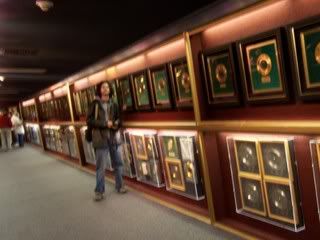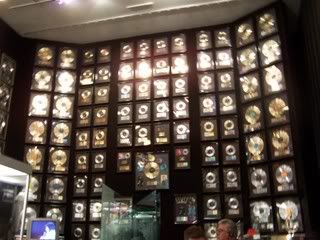 There was also a room full of old furniture that Elvis had replaced, but kept, because it was all custom made just for him. Who wouldn't want to sleep in a bed like that??? I also liked the red velvet couch!!! I'm on the hunt for some orange velvet chairs, and Elvis made me feel a l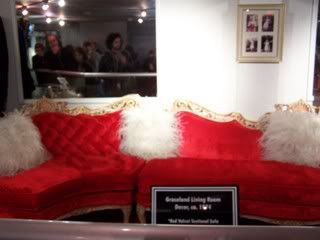 ittle cooler about the whole thing!!! If he can do it, and it's cool, then so can I!!!!!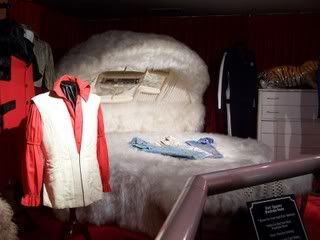 We also got the tour of Elvis' custom made planes. They were unbelievable. The largest of the two was named the "Lisa Marie." it had couches and recliners, much unlike the normal little seats we're all used to. There was a kitchen, two bathrooms, a bedroom, a conference room, and a couple different areas to just lounge in. The bathrooms both had 24 carat gold coating the sinks and stools, and Elvis' personal bathroom was bigger than the one in my house.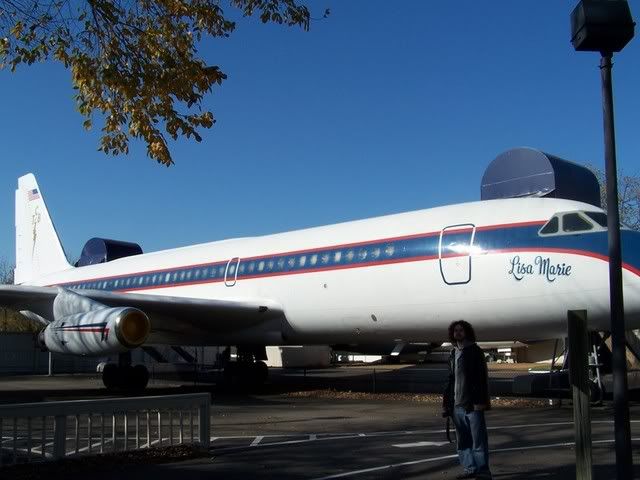 We also got to go into the Elvis Presly Automobile Museum. It had a bunch of Elvis' old vehicles. One that caught my attention was called a "Stutz." I had never heard of it, or seen anything like it. Apparently, the one Elvis bought was the first on e that was ever shipped to the United States. It was black and very sleek. It didn't turn out in the pictures I tried to get....I was disappointed!!!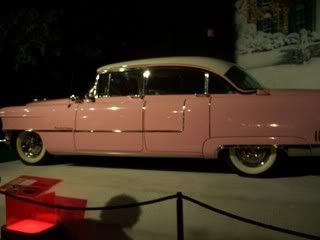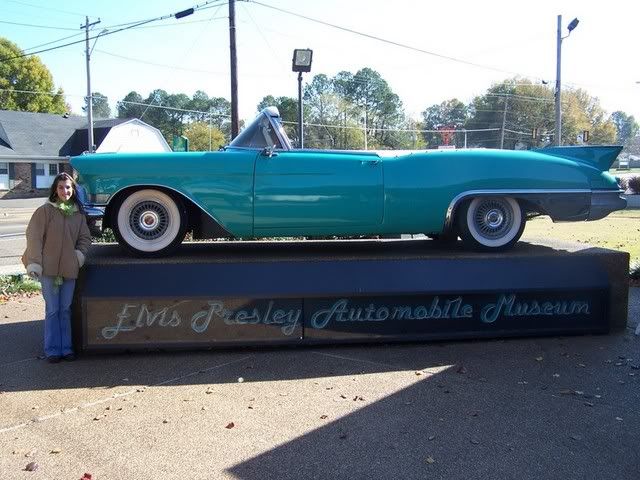 This was one of many living areas in Graceland. What made this room so special is the fact that this is where Elvis spent his last morning playing the guitar and singing before he passed away. He sang "Blue Eyes Cryin' in the Rain" and "Unchained Melody." The room felt very cozy and homey.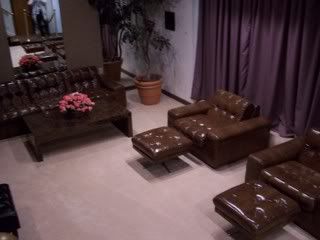 Elvis burial site is in the area of Graceland called the meditation garden. He is buried there with his parents and his twin brother.