I spent a lot of time in the car this past weekend, but while I wasn't riding, I was having a blast!!!!
The weekend started Friday afternoon as I headed to the southwest side of Indy to pick up Kellyann and her hubby, Dave. I was supposed to meet them at their house at 5:00 so we could take off for the Ekoostik Hookah show in Cincinnatti, Ohio. Well, since I'm just a little country girl, I forgot to take the Friday afternoon rush hour traffic into consideration when I left my house at 3:30. I thought an hour and a half would be plenty of time......I was soooooooo wrong.
It took me a little over two hours to get to their house........I was stuck on 465 for over an hour. It stressed me out, big time, but after a Klonopin and some Grateful Dead on the stereo, I was feeling good as gold. I pulled up to their house a half an hour late (which really istn't that bad for me) and they were wating outside for me. I think they thought I got lost....but I am the QUEEN of directions......and I drove directly into their drive after I finally peeled myself away from the interstate.
It only took them maybe 3 seconds to get their stuff together, and out the door we went. We thought we might be pushing the clock a little, but turns out, the doors opened at 8:00, and we showed up 15 minutes early.....great timing Friday night at least.
The venue was a place in Cincinnatti called Annie's. Kellyann and I both thought it would be some little hole in the wall because that's how it sounded to us from the website. We were pleasantly surprised, to say the least. The place was huge. It has a really nice stage inside and out. I just wish there would have been a bigger crowd so they could have generated the funds it would've taken to move everything to play outside.
Unfortunately, Ryan had to work Friday night, so he wasn't there for night one, but we went back to get him on Saturday so he could join the fun!!! Dave called Ryan during the first song and held the phone up so Ryan could hear. We did that with a few songs.....so it was kinda like he was there :-)
The music and setlists were amazing Friday night. It was a pretty small crowd, but you would have never known that from the energy in that place. The crowd was great...I got to see several familiar faces that I have come to call my friends over the last few years of following these guys. I also met a few people that I hope to keep in touch with. Just a few more great people to look forward to seeing in the future!!!!
I also got to talk to Eric (the drummer, and my guitly pleasure) before the show. I think I blew our chance to eat dinner with him. I'm such an idiot. At one point, he asked if we had eaten anything yet, and I just answered him honestly. I told him we had discussed it, and we were just gonna go get something after the show. It wasn't until he left that I realized what an idiot I am. I should've said "yes, Eric, we're starving.....do you want to go get something?" but NO.........I had to be honest...and I blew it!!!!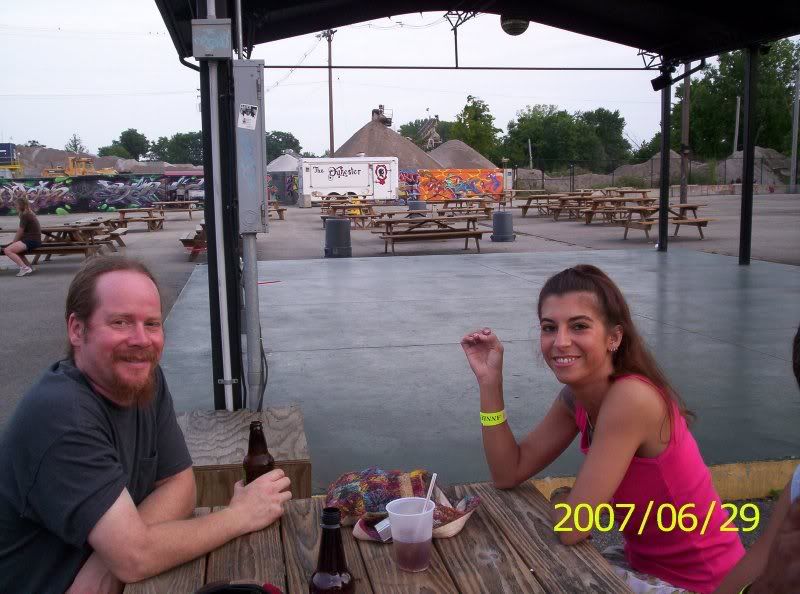 That's me and Eric hanging out before the show. It's always fun to talk to him. He never makes you feel insignificant, or unimportant. That's one of the things I love most about this band. They are so involved with their fans. Eric especially is very easy to approach. Actually, we didn't even have to approach him this time......he just came out and sat right down with us....LOVE IT!!!!!!!!!
Oh well....it turned out to be a great a great night anyway. I danced my tail off as usual!!! I got several great pictures of the band, and a few of some friends of ours.....here goes.......



This first picture is me and Rob Skinner. Ryan and I met him at the fourth of July show two years ago. I guess that would make him about 23 now. It was his birthday the night we met him, and all he wanted for his birthday was to hear the band wish him a happy birthday. Well, we told him it was as good as done....we could get that done for him. I don't think he thought we were serious, but we were :-) About half way through the second set that night, Cliff, the bassist, announced "Happy 21st Birthday to Rob Skinner!!!!" I thought Rob was gonna explode he was so excited!!! Since then, Ryan and I have had his undying gratitude......
Next is Dave, Kellyann, and our friend Derek. They all live in indy, but it's one of those things where I hardly ever see Derek or his wife, Jenn, unless we're out of state at a Hookah show. They are wonderful people too!!! Always lots of fun with them around!!!!
This is Derek's wife, Jenn. She was one of the first people I ever met through Hookah....and she is wonderful!!!!
There's Dave, shaking his tail right along with the rest of us!!!!
Group shot.......Dave and his ladies for the night.........................
I love this picture of Eric. I only wish the lighting would have been a little better. I normally don't get pictures of Eric from this angle, but I was able to get up beside the stage and catch a few good shots........
This is a shot of the crowd from the side stage where I hung out a lot of the night....you can see our buddy Rob with his green bandana.....looks like he's pouring his heart out to the band :-)
Of course, I had to get a lot of pictures of Steve Sweney. It's usually very hard to get close to him. All the hookahheads call it "The Sweney Side." But, when I wasn't hanging out on the side stage, I was right up front on the Sweney Side of life!!!!!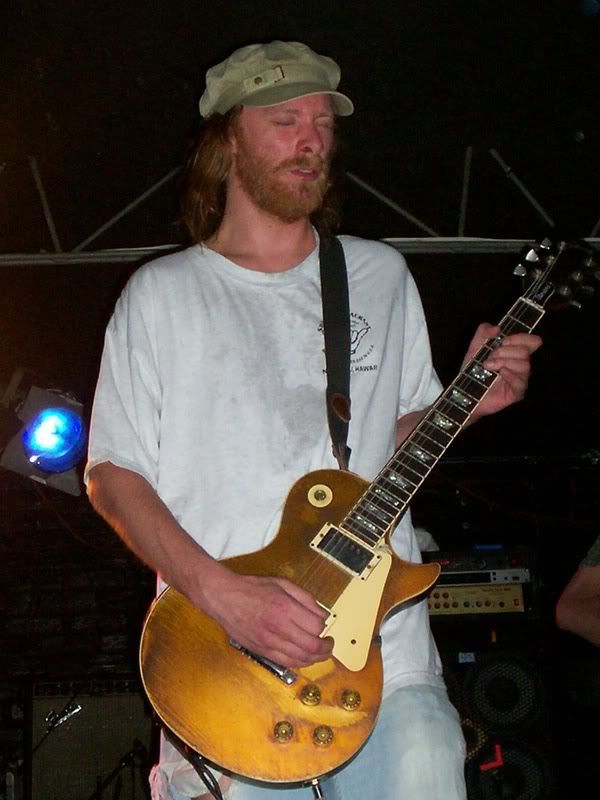 Kellyann shook her tail all night with me and Dave :-)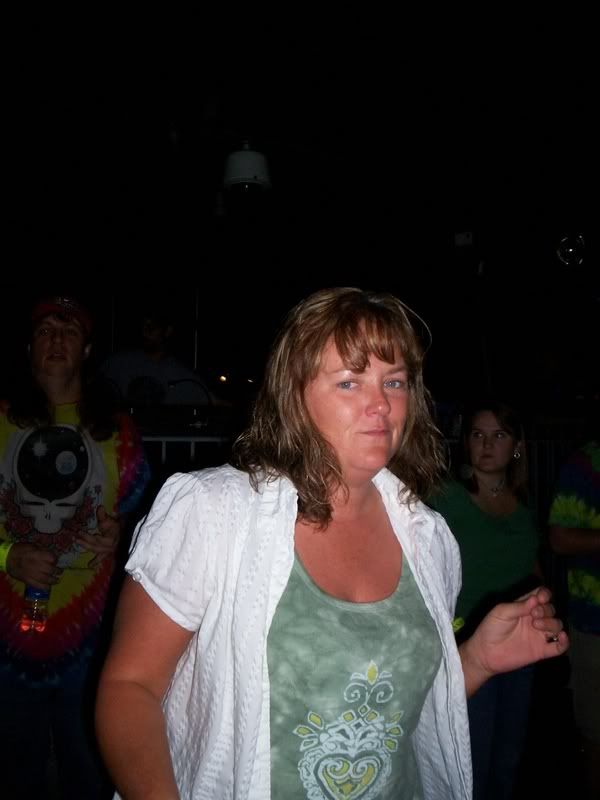 You can always count on good ol' Cliffy to pull some crazy stuff on stage. I saw him and Steve checking out the rafters at one point, and then, the next thing I knew, Dave is getting my attention because Cliff is climbing up on the light fixtures....I had to run back to the side to get some good angles of this!!!!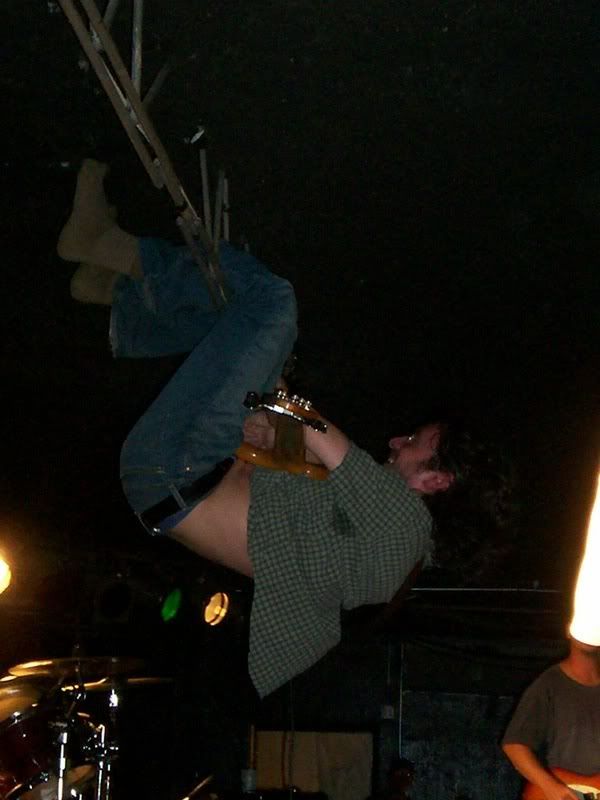 He even managed to play a few riffs before he decided it was time to get down.....I really wish Ryan would've been there to see that!!!!! Cliff is so much fun!!! I just love him!!!!!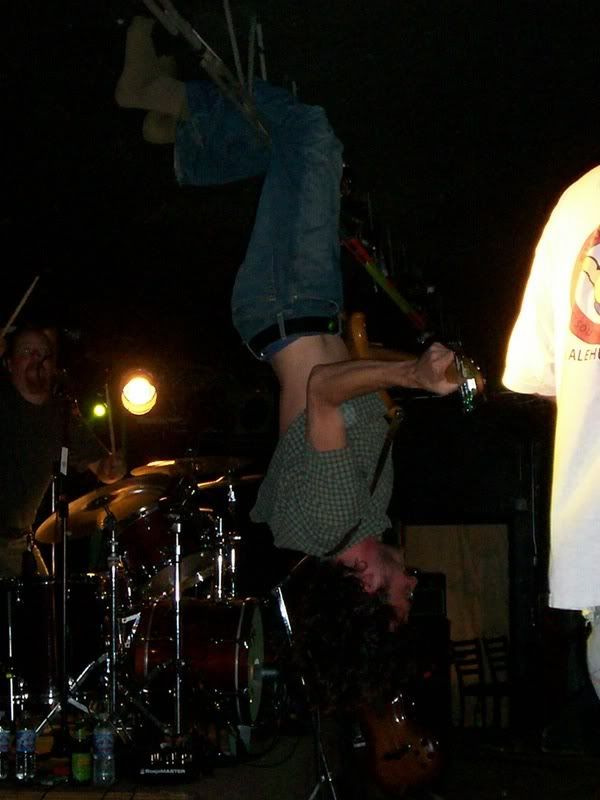 So, there ya go.....that's about it for night one.......time to start working on the next post.........