Well...I've got a lot of catching up to do!!!! I guess I'll go in chronological order....so, we'll start with the Ratdog concert in Columbus, Ohio. That was a couple weeks ago on July 17th. My friend Julie and I went together, but Ryan wasn't able to go because it was a week night, and he had to work. Other than the fact that he wasn't there, it was a blast!!!!!
First, Julie and I took off from Kokomo Tuesday afternoon in the rain. As we're driving towards bigger and darker clouds, we realize that we forgot our raincoats...uh oh!!! The show was at the Lifestyle Community Pavillion (formerly Promo West) which is an indoor AND outdoor venue. The Ratdog show was scheduled outdoors....rain or shine.
As we pull up to our hotel, we both just kind of looked at eachother. It looked pretty shady.....but hey, you get what you pay for....and we only paid 40 bucks for the room. Walking into the room, it didn't seem too bad...the carpet was really clean, and the beds looked OK. BUT, once we started looking around a little more, we realized we were in a real dump. There was writing on the wall by the bathroom, there was black stuff...maybe makeup...smeared on the wall in the bathroom, there was nail polish (we think and hope) on the back of one of the headboards, and one of the drawers was broken off of the dresser. We just laughed and took pictures and went on with our night.
Nice room....huh??? See that missing drawer?? it was actually broken, kinda like someone ripped it right off of there................
We got into town with a couple hours to spare, so we could have some cheap drinks at our hotel before we left. We called a cab and asked them to be there at 6:30. After a couple drinks a piece, we realized that it was almost 6:45 and we had no ride yet.......well, obviously, we weren't driving!!! So, I start looking out the window, and Julie is looking for other numbers to call for a cab, and this guy in a brown mini van pulls up. He saw me looking out the door, and said "is this room 305?" I said "no, that's a couple doors down." At first, we thought he was our ride. He made a couple comments regarding me and Julie "lookin' goooood" and we took that as a sign to shut the door and say bye bye to this guy.

Finally, we get a legitimate cab company to come pick us up, and head to the show.
The venue was awesome. It was kind of like a mini version of Deer Creek, except it had city scenery all around instead of corn fields. (You all know I prefer the corn fields) There was a lawn on a big hill, and a small pavillion area down by the front of the stage. There were also a few different bars that you could get inside from the inside of the venue. You just had to show your ticket before you could get back out to the lawn. So, we hung out inside the bars a couple times.
When we first got there, we hung out on Shakedown Street where all the vendors were. I love hanging out on Shakedown. We stopped and listened to a couple drum circles and shopped around a little. When we heard Keller Williams take the stage, we headed into the venue.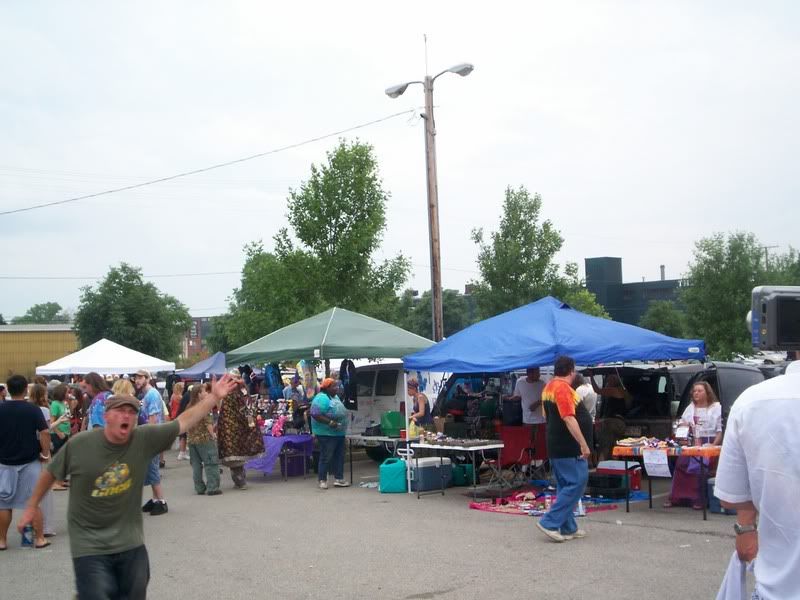 Here's a pic of Shakedown. There's some crazy guy jumping in the picture....but hey, it looks like he's having fun!!!!
I walked up to the front of the lawn to take a few pictures, and the first person to talk to us after we got inside was John Mullins...the lead singer from Ekoostik Hookah. he stuck his face up in my camera and started making weird noises until I finally looked over to see who it was. I just about crapped my pants......here's John Mullins standing out here on the other end of the stage....as a fan, just like me. So, we ended up hanging out with John for the first hour or so we were there. He came up to our spot on the lawn and sat down with us for awhile. We continued to drink....and drinking with John Mullins is a rarity, because he doesn't drink at the Hookah shows anymore, so it was nice to catch him outside his own stage for a change. I actually felt kind of bad for him at one point, because he had people stopping him and asking him questions about Ekoostik Hookah constantly. He even told one guy to sit down and enjoy THIS show, and they could talk about Hookah later. He just wanted to enjoy the show like the rest of us.

I guess those Hookah boys really are celebrities......in Ohio anyway :-) It was strange to hang out with him outside of that normal environment of Hookahheads yelling, and people focusing on him. It just made me feel good that he chose to spend some of his time with us. I also ran into several other friends from Ohio that I have met by going to Hookah shows. I felt more at home there than I have ever felt even at Deer Creek. Just more familiar faces I guess.....

Keller played for probably about two hours...I'm not sure, I kinda lost track of time. But the highlight of his performance was when Bob Weir came out and did a couple songs together. They did one song I didn't recognize, and they did Cumberland Blues. I got a couple pretty good pictures of them together. Jen, you would have been proud of Bobby.....he was full of energy, and put on an excellent show. And yes....he threw his head back like a true rocker a couple times....it was great.

The Ratdog show was not nearly long enough. Then again, I think that of all the shows I go to. They played Shakedown Street, which always gets me shakin'. They played St. Stephen, Jack Straw, and Knockin' on Heaven's Door......and that's only a few I remember off the top of my head. I couldn't have asked for a better setlist that night. I was so happy!!!! I absolutely LOVE hearing Grateful Dead music live......there's nothing like it. Those of you who have been there....you know what I mean. We watched some of the show from up high on the lawn, but we did manage to meander down to the front of the stage for awhile too. It was just too packed to really dance down there, so we headed back to our little spot we had posted.

It did end up raining on us for awhile. We remembered to stop at a truck stop and pick up a couple panchos, so we stayed dry for the most part. I was just happy we had a hotel and dry clothes to go back to when we were done. The last show Julie and I went to when it rained was miserable...so this was a nice change.

When the show was over, we hung out back out on Shakedown for a little while. There was a lot of partying going on in the parking lot, so it was a fun scene. We probably stayed for about an hour after the show before we decided to grab a cab to get back to the hotel.

When we got into the cab and told the driver the address of our hotel, he turned around and looked at us and said, "Do you tow realize where you're staying? That's not a very safe place for two young girls from out of town." I'm thinking oh great...what's he gonna tell us now. We thought maybe we were at a whorehouse when that mini van stopped, because there was a girl who left with him a few minutes after we talked to him. But no...it wasn't JUST a whorehouse.....it was a crackhouse too!!! Holy Crap!!!

Luckily, the cabby seemed pretty ligitimately concerned, and we felt safe with him. He explained how they put the out of towners on the right side of the hotel, and they put the regulars on the left, and that's where all the squatters stay when they can actually get into the building. It all made sense when he said that, because when we actually looked around a little, we noticed there were several windows boarded up on the left side of the building.

He had heard us mention eating something when we got back to the hotel, and told us it probably wouldn't be a good idea to leave after we got back. So, he was nice enough to turn his meter off and drive us through Arby's so we wouldn't have to walk down there. That was our plan, because Arby's was just at the end of the entrance to our hotel. But he said NO WAY!!! He also had us get everything out of the car that we needed before he left so we wouldn't have to come back outside. We were given very specific instructions by him not to answer the door or leave after he left. WHOA!!!!

But really, we felt perfectly safe once we were inside. We had about four bolt locks on the door and made sure they were lokced up tight. I never heard a peep from outside the whole night.

OK....now the pictures......

This is the "before" picture......
This is the "after" picture............Probably about an hour before the end of the show.....
Here's Bobby and Keller playing Cumberland Blues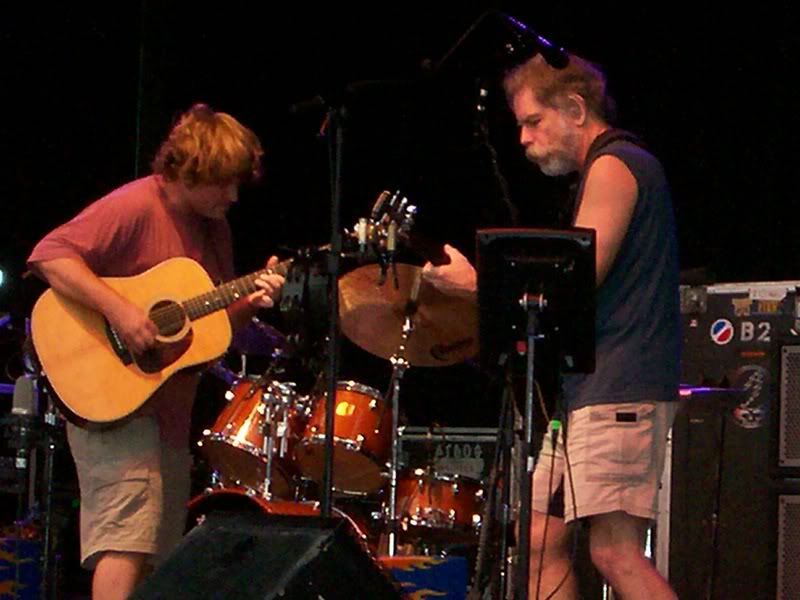 Bobby singin' his little heart out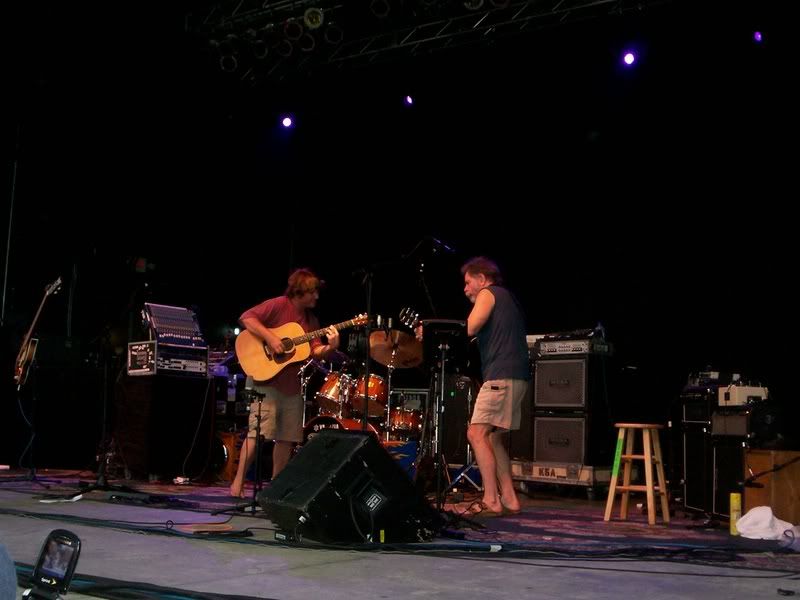 This is Keller Williams.................
Now I'm out of time, so I will have to continue on Thursday.
Next to come.................Jimmy Buffett review............................