Ryan and I went to see a show at The Vogue for FREE this past weekend!!!! Clint got some free tickets, probably promo tickets, for The Black Keys last Sunday. I love having Clint as my insider for fun stuff in Indy. He knows so many people, and is such a social butterfly, that he gets all kinds of perks everywhere!!!
Anyway, The Black Keys are a band consisting of only two members. A guitarist and a drummer. Every once in awhile, the guitarist will play the organ, but they didn't have it up at this show.
Their style is somewhat bluesy, but definitely rockin'!! They've been around for about five years, but have just been noticed recently after their latest release received great reviews from several music magazines and musicians. It's hard to believe by just listening to them that there's only two people playing instruments. There's a lot of sound pouring out of both of them.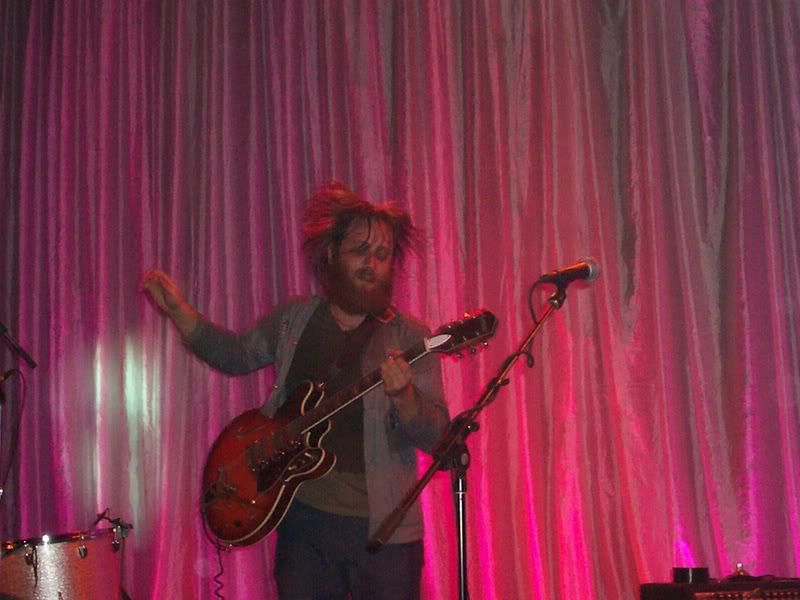 The show was very energetic. It was a lot shorter than I would have liked, but I have to admit, I was exhausted by the time it was all over. I guess I have been spoiled by the Hookah boys playing for four and five hours at a time for me :-)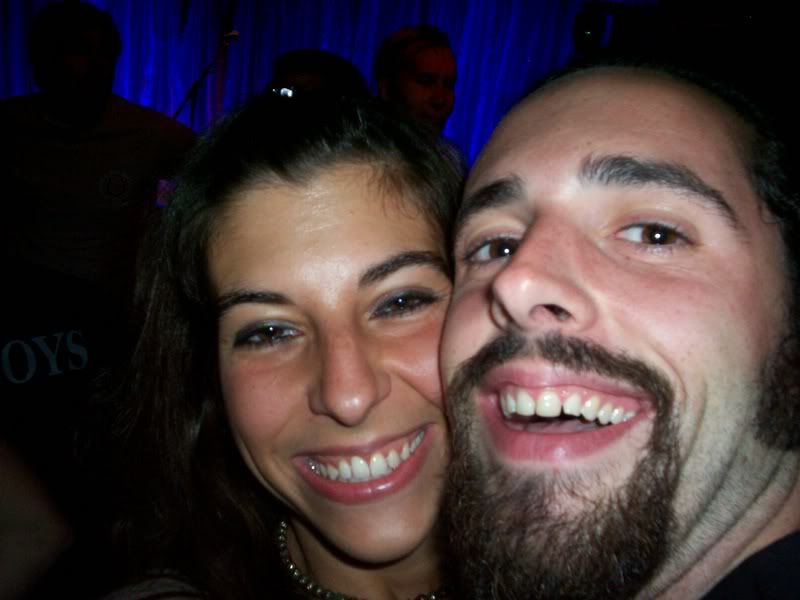 We met up with Clint ( he lives in Broad Ripple now) and a couple friends of his and found a spot where we could all see. While we were standing there just chit chatting away, our friend Eric comes strolling by. I'm always so happy to see him. The funny thing is, he lives in Kokomo, and I NEVER see him here in town. It's almost a given that we will see him if we go to any show nearby. We also got to hang out with a couple friends, Will and Amy who just moved to Indy not too long ago. We had no idea they would be there, so that was a great surprise. It's amazing to me how many faces have become familiar at concerts these last few years. There are plenty of people out there doing exactly what Ryan and I do......we see live music as often as possible. It's a life source to us.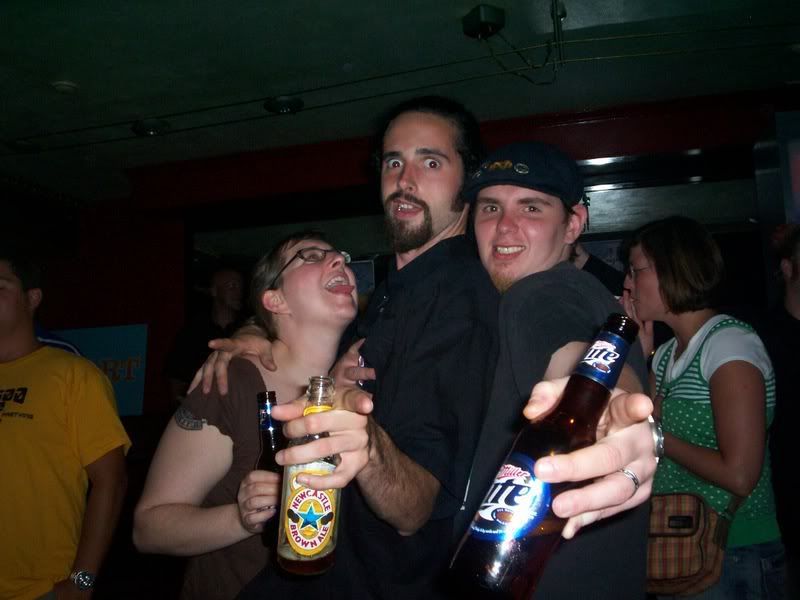 This is Will and Amy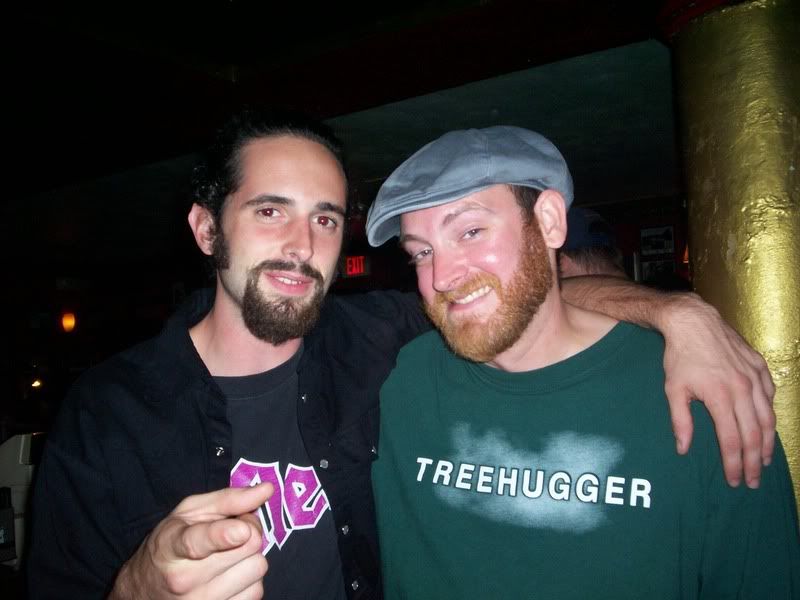 This is our buddy Eric Springer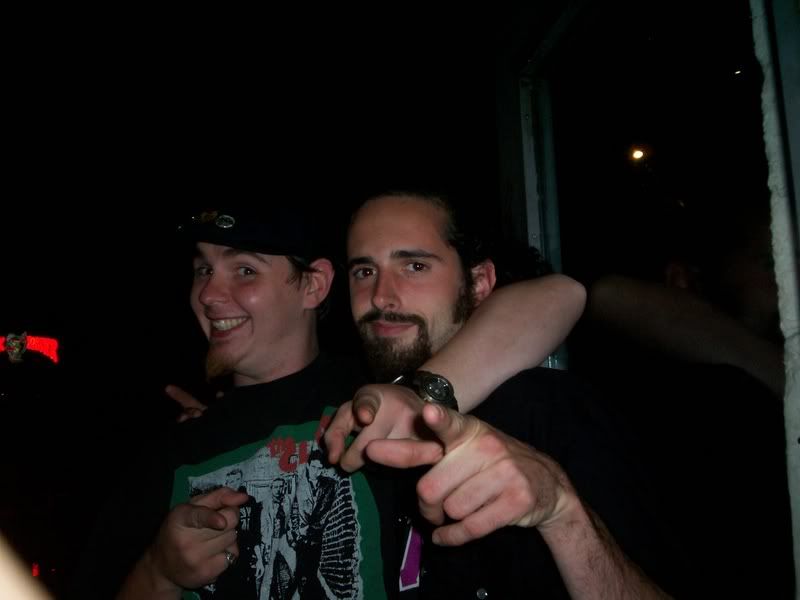 Ryan and Will being goofy as we go into The Alley Cat.............
Clint ended up meeting some "hot Betty," as he would say, and went down to a bar called The Alley Cat where they talked and could actually hear one another. We walked down there after the show and hung out with them for a little while. Clint's brother, Gauvin, was there too. He looks like Brad Pitt.....anyone know someone looking for a hot and NICE boyfriend???? It's always good to see Gauvin. I love Clint's family. So, not only did we get a great show under our belts for FREE, we also got to see some old friends and catch up a little.
This is the creepy alley we walked through to get to the Alley Cat. I would never walk down there alone, that's for sure!!!!!
Of course, Ryan and I had to do as much as we could to try to get back stage to get a picture, or at least talk to the guys. It's hard to get backstage at The Vogue. You have to know someone with more strings to pull than Clint has, but it's pretty easy to catch people from the bands outside in the back parking lot. So, that's what we did. We did end up getting to chat with them for a few minutes, but as you can imagine, everyone else wanted to talk to them too. So, after a few brief words, we snapped one picture a piece, and got out of their way. Unfortunately, my picture with the gutarist, Dan Auerbach, didn't turn out very well....surely you see what I mean :-). The picture of Ryan and Patrick Carney, the drummer, was taken just after Ryan stepped off of the curb they're standing near and almost wiped out. It was a good laugh for everyone. Maybe that's how they'll remember us.......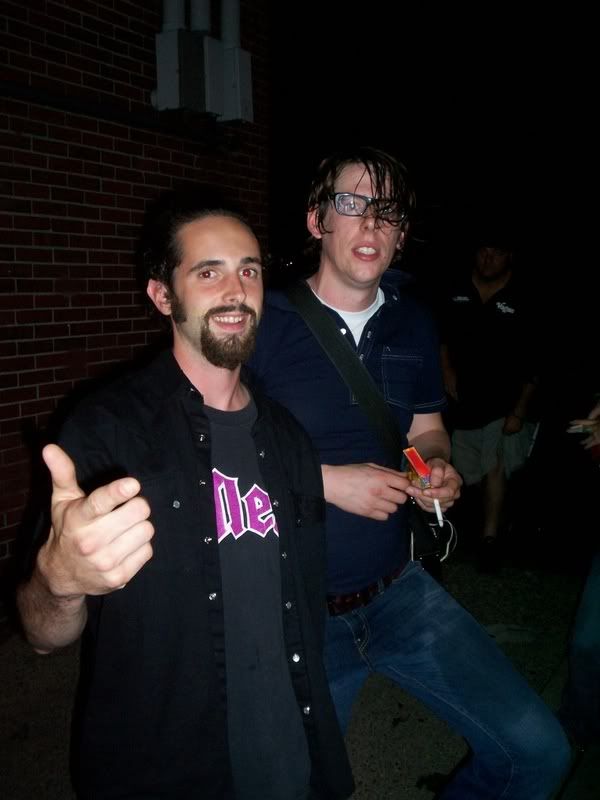 Ryan and Patrick Carney, the drummer...................


Me and Dan Auerbach........too bad he looks like he's sleeping....................

Yet another fun-filled weekend busting at the seams with great music and great people!!!!